EGT Pokies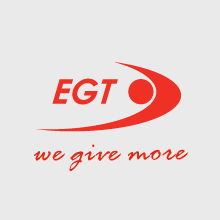 There can't be many casino games developers based in Bulgaria, but Euro Games Technology was founded in the capital Sophia in 2002, and remains headquartered there, although rapid expansion has seen numerous branches opening up around the world.
Known as EGT, the company produces a range of table games, cards and pokies for both land-based and online casinos, many of which come with innovative features and all of which are proven reliable and fair.
The History of EGT
The company initially focussed on the Bulgarian casino market, but gradually made a name for itself across the Balkans region, supplying stylish games and cabinets to traditional bricks and mortar casinos. Since Bulgaria joined the EU in 2007, they have expanded rapidly across the continent, increasing their range and adapting them for online and mobile platforms.
At the last count, EGT employed around 1,350 people, largely at their main 16,000sq/m site in Bulgaria, but also at subsidiary offices or in partnerships as far apart as Spain, Tanzania, Argentina and China among others.
Fatal error
: Uncaught PDOException: SQLSTATE[42000]: Syntax error or access violation: 1055 Expression #8 of SELECT list is not in GROUP BY clause and contains nonaggregated column 'playpoki_playpokies.r.nrrates' which is not functionally dependent on columns in GROUP BY clause; this is incompatible with sql_mode=only_full_group_by in /var/www/playpokies.com/public_html/includes/template-functions/games-boxes.php:236 Stack trace: #0 /var/www/playpokies.com/public_html/includes/template-functions/games-boxes.php(236): PDOStatement->execute(Array) #1 /var/www/playpokies.com/public_html/includes/template-functions/games-boxes.php(34): get_games(Array) #2 /var/www/playpokies.com/public_html/includes/template-functions/helpers.php(669): games_boxes(Array) #3 /var/www/playpokies.com/public_html/egt/index.php(25): print_free_games_offers(108) #4 {main} thrown in
/var/www/playpokies.com/public_html/includes/template-functions/games-boxes.php
on line
236