IGT Pokies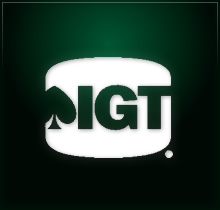 Since its foundation in 1975 by William S. Redd, International Game Technology has become one of the largest betting corporations in the world. The group is headquartered in Las Vegas, Nevada, and has a history of creating unique casino games, gaming platforms, and other gaming related products throughout the world. Currently IGT holds offices in San Francisco, as well as in other countries such as Mexico, Canada, the United Kingdom, Brazil, China, Estonia, the Netherlands, New Zealand, Russia, South Africa, Australia, Argentina, Sweden, and Spain.
IGT has developed a series of pokies for land and online casinos, and has generated some of the most iconic of these titles ever. Games such as Wolf Run, Siberian Storm, and Cats have all come to be widely known as casino classics, and have even debuted in the retail world, as IGT regularly puts out CD compilations of its games, which it then sells at department stores.
Today IGT is a multi-billion dollar company, and was publicly traded on the US stock exchange before it was purchased by Italian gaming firm GTECH for a consideration of $6.4 billion USD. This will result in the IGT name being dropped and the assumption of the GTECH moniker once the deal is completed.
Fatal error
: Uncaught PDOException: SQLSTATE[42000]: Syntax error or access violation: 1055 Expression #8 of SELECT list is not in GROUP BY clause and contains nonaggregated column 'playpoki_playpokies.r.nrrates' which is not functionally dependent on columns in GROUP BY clause; this is incompatible with sql_mode=only_full_group_by in /var/www/playpokies.com/public_html/includes/template-functions/games-boxes.php:236 Stack trace: #0 /var/www/playpokies.com/public_html/includes/template-functions/games-boxes.php(236): PDOStatement->execute(Array) #1 /var/www/playpokies.com/public_html/includes/template-functions/games-boxes.php(34): get_games(Array) #2 /var/www/playpokies.com/public_html/includes/template-functions/helpers.php(669): games_boxes(Array) #3 /var/www/playpokies.com/public_html/igt/index.php(22): print_free_games_offers(76) #4 {main} thrown in
/var/www/playpokies.com/public_html/includes/template-functions/games-boxes.php
on line
236