Genesis Gaming Pokie Machines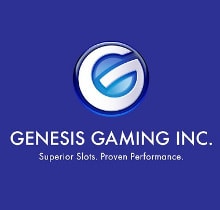 Founded in 2008, Genesis Gaming is headquartered in Nevada, the home of gambling in the USA, from where they have issued a range of around 150 pokies for both online and land-based casinos and across desktop and mobile platforms.
Many of the staff at Genesis Gaming have backgrounds in the traditional casino industry, with years of experience in developing pokies that attract, engage and retain players. But this doesn't mean that they are stuck in the past, as they have fully embraced the newest developments in social gaming and have integrated much of their range for IOS and Android mobile devices.
Game Development
Some of the games are made available for general release while others are bespoke titles designed specifically for certain sites, markets and customers. They have a detailed game development process that starts with initial meetings with clients to determine their requirements, establish how their games will fit in with any existing portfolios, player retention strategies and how future trends will affect the process.
The way games run on the clients existing software platforms will determine how the pokies are developed, and then the design, themes, special features and delivery schedules can be discussed.
Once the Animation and Music Composition teams at Genesis Gaming have completed working examples of the games, these will be reviewed with the client and any amendments will be integrated into them before signing off the design. This will then be fully integrated into the clients' range, with Genesis taking care to ensure that each title runs smoothly at each site.
Any marketing assistance to promote the new games can be developed with the client for the mutual benefit of Genesis Gaming and customers alike.
Fatal error
: Uncaught PDOException: SQLSTATE[42000]: Syntax error or access violation: 1055 Expression #8 of SELECT list is not in GROUP BY clause and contains nonaggregated column 'playpoki_playpokies.r.nrrates' which is not functionally dependent on columns in GROUP BY clause; this is incompatible with sql_mode=only_full_group_by in /var/www/playpokies.com/public_html/includes/template-functions/games-boxes.php:236 Stack trace: #0 /var/www/playpokies.com/public_html/includes/template-functions/games-boxes.php(236): PDOStatement->execute(Array) #1 /var/www/playpokies.com/public_html/includes/template-functions/games-boxes.php(34): get_games(Array) #2 /var/www/playpokies.com/public_html/includes/template-functions/helpers.php(669): games_boxes(Array) #3 /var/www/playpokies.com/public_html/genesis-gaming/index.php(27): print_free_games_offers(90) #4 {main} thrown in
/var/www/playpokies.com/public_html/includes/template-functions/games-boxes.php
on line
236