WMS Pokies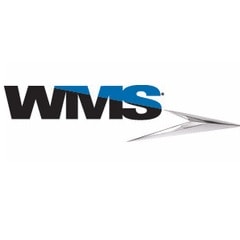 WMS Gaming, or Williams Interactive as it is often referred to, has quite a long history for a company that now primarily designs and develops pokies for online casinos. The Williams Manufacturing Company was set up in 1943 to make pinball machines, but the modern version of the business was established in 1974 as Williams Electronics, producing a number of classic video games such as Paddleball and Robotron 2084.
Now based in Las Vegas, Nevada, WMS Gaming began to build pokies in 1994 focusing on the land-based casino market, only moving to the online market in 2010. In 2012, the Williams Interactive division was set up to concentrate on the online side of the business and they merged with Scientific Games in 2013 in a deal worth $1.5 billion.
Now partnered with EveryMatrix, Williams Interactive may be a fairly recent online games provider, but with an extensive history and experience, they are catching up with more established companies thanks to a range of innovative games that often have unique features that are designed to attract and retain players.
Fatal error
: Uncaught PDOException: SQLSTATE[42000]: Syntax error or access violation: 1055 Expression #8 of SELECT list is not in GROUP BY clause and contains nonaggregated column 'playpoki_playpokies.r.nrrates' which is not functionally dependent on columns in GROUP BY clause; this is incompatible with sql_mode=only_full_group_by in /var/www/playpokies.com/public_html/includes/template-functions/games-boxes.php:236 Stack trace: #0 /var/www/playpokies.com/public_html/includes/template-functions/games-boxes.php(236): PDOStatement->execute(Array) #1 /var/www/playpokies.com/public_html/includes/template-functions/games-boxes.php(34): get_games(Array) #2 /var/www/playpokies.com/public_html/includes/template-functions/helpers.php(669): games_boxes(Array) #3 /var/www/playpokies.com/public_html/wms/index.php(22): print_free_games_offers(82) #4 {main} thrown in
/var/www/playpokies.com/public_html/includes/template-functions/games-boxes.php
on line
236