Play 'n Go Pokie Machine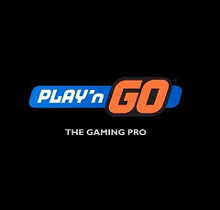 You can be excused if you haven't heard of Play 'n Go, a company that has been in the business of creating online gambling games for nearly two decades. While they aren't one of the major names in online pokies, they offer a number of creative, fun titles that offer classic action with thematic twists. If you want to play straightforward games that combine solid gameplay with attractive graphics and sound packages, take a look at casinos offering Play 'n Go pokies.
About Play 'n Go
Based in Sweden, Play 'n Go was first launched in 1997 as a group that worked for other online gambling firms, producing games for larger companies. However, they became an independent software provider in 2005, and since them have worked to create their own games. Since that time, they have developed more than 50 different online pokies. While that's not enough for them to be considered one of the larger online gambling software groups out there, their long history of producing quality games has made them a trusted name in the industry.
Fatal error
: Uncaught PDOException: SQLSTATE[42000]: Syntax error or access violation: 1055 Expression #8 of SELECT list is not in GROUP BY clause and contains nonaggregated column 'playpoki_playpokies.r.nrrates' which is not functionally dependent on columns in GROUP BY clause; this is incompatible with sql_mode=only_full_group_by in /var/www/playpokies.com/public_html/includes/template-functions/games-boxes.php:236 Stack trace: #0 /var/www/playpokies.com/public_html/includes/template-functions/games-boxes.php(236): PDOStatement->execute(Array) #1 /var/www/playpokies.com/public_html/includes/template-functions/games-boxes.php(34): get_games(Array) #2 /var/www/playpokies.com/public_html/includes/template-functions/helpers.php(669): games_boxes(Array) #3 /var/www/playpokies.com/public_html/play-n-go/index.php(23): print_free_games_offers(66) #4 {main} thrown in
/var/www/playpokies.com/public_html/includes/template-functions/games-boxes.php
on line
236