Jackpot Express Pokie Machine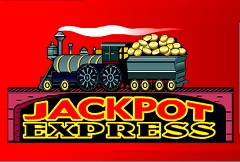 If basic (and I mean really, really basic), graphics are appealing, then the Jackpot Express pokie from Microgaming could be the game for you. There's nothing wrong with having a simple design to a game, but this one looks like it was drawn by a five-year-old, or maybe knocked out late one Friday afternoon before the Microgaming designers went to the pub.
Anyway, moving on from the look of it, what we have here is actually a train-themed, classic 3-reel pokie that features 5 paylines and some decent jackpot winnings when the right symbols land across them. The gameplay is similar to a number of others from the same developer and has been proven to work well, so they have stuck with a tried and tested system which is popular with those players who appreciate the ease and straightforward format of this type of game.
Choo-choosing to Play Jackpot Express
There's nothing radical about the way Jackpot Express is presented, with a red background and the actual reels up on the top left of the game. Below them we see the game title and the image of a steam locomotive with a simple animation to the smoke coming from its' chimney, and to the right of them is a payout table that tells players what they will win for each combination of symbols.
As it's a 5-payline game that rewards jackpots when the right symbol fills a line, there's some separate information about how these payouts work above the main table, and below everything is the control panel that players use to set their bet size and spin the reels.
Even the controls are about as simple as they come, with players just having the option to adjust the bet from 1.25 to 2.50, 5.00, 10.00, 25.00, 50.00 or 100.00. There's no autoplay option, and all 5 lines are automatically activated, so the only other thing to do is click and spin.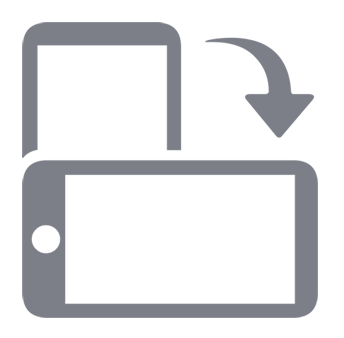 Play Fullscreen
Casino of the year 2019
Read Casino Review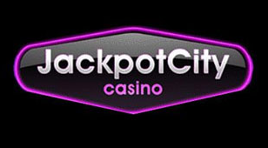 SIGN UP NOW!
Deposit $400, Get $400 Free
For all new players at Jackpot City Casino
×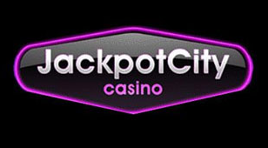 Deposit $400, Get $400 Free
For all new players at Jackpot City Casino
SIGN UP NOW!
Casino of the year 2019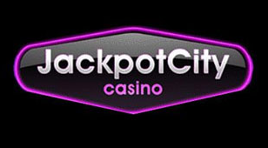 Read Casino Review
Deposit $400, Get $400 Free
For all new players at Jackpot City Casino
SIGN UP NOW!
The payout table is filled with exotic images of exciting train-related fun. No it's not. It's just got bars and 7's in flat colours, with the number of times the bet amount players will win listed next to them.
If any combination of the single, double or triple bar icons come to rest across a line, players win 4x the stake amount, while getting full lines of identical bars will pay 10x for the singles, 40x for the doubles and 60x if the triple-bars land across a line.
The highest value regular symbol is the red 7, which will be worth 80x the stake for a full line, and lastly is the locomotive tender which is normally filled with coal, but on this occasion we see it stuffed with gold coins.
This symbol has a couple of functions. Although the payout table makes no reference to it, (maybe the designers forgot to mention it), this is a wild symbol, so it will act as any other if that completes a winning combination. This will boost the frequency of wins, while getting a full line of the tender will trigger the jackpot payouts.
Landing it across line 1, which runs through the centre of the reels will be worth a win of 1000x the bet, and if it lands across line 2 at the top, it's worth 1500x. The third payline runs along the bottom of the reels, and a full row of the jackpot symbol will equal a prize of 2000x, and then the fourth line that goes from top left to bottom right is valued at 2500x the bet.
Instead of line five, that goes from bottom left to top right paying 3000x, which would be expected if the pattern was followed, this combination is the biggest jackpot of the lot, being worth 5000x the stake.
Free to Play Microgaming Slot Machine Games
Is Jackpot Express on Track?
Despite the lack of design flair, there's really nothing wrong with Jackpot Express. The only real criticism is that it's not made clear that the tender works as a wild symbol, which seems very odd as this would be an added incentive for players to try this game out. A bit more variety in the symbols would perhaps have been welcomed, but many people like the simplicity and frequent winning combinations that come from just having a few.
Other than that, it has some good payouts, a generous jackpot and as there are no complicated betting options, it's easy to get started.