Trick or Treat Pokie Machine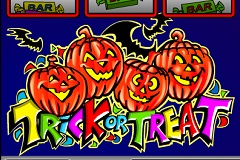 Seasonal themed pokies are always popular and apart from Christmas, Halloween seems to be the biggest event of the year, with numerous games featuring witches, cats, ghosts and bats.
There are even a number of games called Trick or Treat, but the one we are dealing with today is the 3-reel, 3-payline version from Microgaming. It's a simple and straightforward pokie with nothing in the way of bonus features, where players simply click a button to spin the reels and then wait to see what symbols line up for a prize.
Those prizes can go up to 4000 coins, or 20,000.00 at the maximum 5.00 per line stake, although there's still some decent wins to be had from lining up even the lower value symbols.
It's a basic looking pokie, where simple renderings of sweets, pumpkins and bats are all we really get, with just a few splashes of colour in the blue background and red payout table giving it a bit of a lift. But not by much.
Playing Trick or Treat
Like many 3 reel pokies from Microgaming, placing bets is as easy as pumpkin pie, with players simply needing to adjust the amount each coin is valued at from a minimum of 0.25 to 0.50, 1.00, 2.00 and a maximum of 5.00. They can then play with 1, 2 or 3 coins for a maximum wager of 15.00 per spin, although there is an enhanced jackpot that players only qualify for if they bet with all 3 coins.
The game is set out in a typical format, with the reels up in the top left corner, while below them is the game title complete with some laughing pumpkins sitting on it. The right side of the game is taken up by the payout table where players see how many times their total bet per spin will be returned to them whenever matching symbols land across an active payline.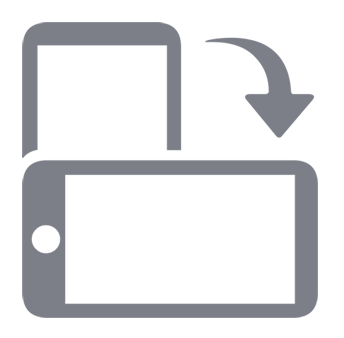 Play Fullscreen
Casino of the year 2019
Read Casino Review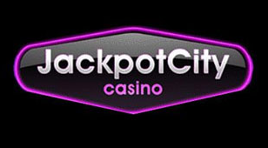 SIGN UP NOW!
Deposit $400, Get $400 Free
For all new players at Jackpot City Casino
×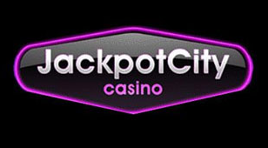 Deposit $400, Get $400 Free
For all new players at Jackpot City Casino
SIGN UP NOW!
Casino of the year 2019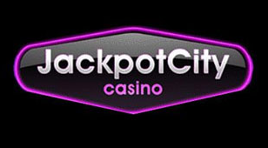 Read Casino Review
Deposit $400, Get $400 Free
For all new players at Jackpot City Casino
SIGN UP NOW!
Some Sweet Winnings
A series of different coloured sweets make up the bulk of the symbols that players are likely to see spinning around the reels. Like the rest of the game, these are very simple drawings that look like they were done by a child, but at least this makes it easy to see what's landed and to work out how much of a reward is due.
The green sweet will pay 10x the bet when it lands across a line, while the green and pink sweets together will be worth 20x. The green, pink and yellow sweet symbol is valued at 50x the bet, but the most likely combination that players are going to land is a mix of the different sweets for a 5x payout.
Bats and pumpkins are the only other symbols here and if players land a mix of them across a line they will see a win of 75x their stake, while the bats on their own are worth 150x.
The jackpot payouts come from landing a line of fairly scary-looking pumpkins, and the amount won depends on which line they cover. The first payline, and the only one that would be active if a single coin was in play, runs across the middle of the reels and landing the pumpkin right across will be worth 1000x the bet, while the second line, which would also be in play if 2 coins had been selected, is worth 2000x.
However, there's an incentive to play with all 3 coins, which can be done for as little as 0.75 per spin, as the reward for landing pumpkins across the third payline that runs along the bottom of the reels is 4000x the bet.
Players who have the maximum bet on will get a very nice 20,000.00 when this happens, but Trick or Treat has some decent enough returns even if they don't land that perfect combination.
A Treat, or Have Players Been Tricked?
This game was designed from the start to be a simple way for players to hopefully spin up some nice wins, but there's very little in the way of visual delights here, with plain colours, unexciting pictures of sweets making up the majority of the images, and just a couple of symbols that give it a Halloween flavour.
But for anyone looking for a trusted and reliable game that can bring in regular winnings without throwing in lots of extra features, this could be just the right one for them.