Paylines On Pokie Machines
Paylines are the actual lines in a pokie in which a symbol has to line up on in order to pay out. These lines can be straight, diagonal, or any crazy shape that the game's developers can come up with. On traditional pokies these lines are usually just straight across, and video pokies tend to have all sorts of combinations, ranging from straight across, to diagonal, to lines that jump all around the game.
Paylines can range from 3 on a contemporary pokie, all the way up to 100 or more involved with complex video pokies. An example of a pokie's paylines is shown below. This is obviously a multi-payline pokie.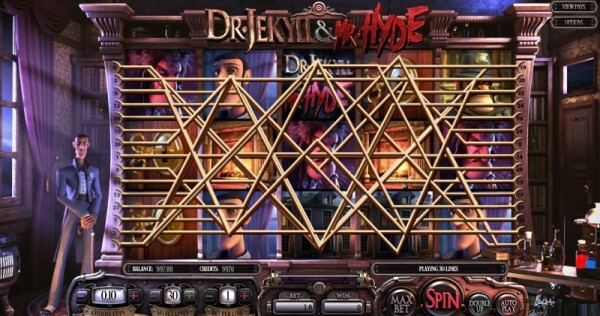 Many Paylines versus Few Paylines
Video pokies range in paylines from very few to tons. There are literally so many combinations in some games that it is staggering to keep track of exactly what is going on throughout the reels. Other games are very simple to follow, with as few as nine paylines on 5-reel video pokies and sometimes only one on a traditional 3-reel pokie.
The upside of pokies with fewer paylines is the fact that the game is much more simple to track. Most of the time you will know what is going on as the spin is resolving itself, and you will find some excellent payoffs when the symbols end up hitting. Conversely, there will be many spins in which you don't see anything coming back your way, not even a penny. This is the main type of risk you will see when playing these lower payline games: less frequent wins.
Pokies with many paylines are a different breed of cat. They serve a variety of patterns throughout the reels, and end up paying out a certain value according to the symbol on the reels. On pokies with tons of paylines, the value of winning symbols is often dumbed down quite a bit, with most symbols only paying a small value (obviously this goes up as your amount wagered grows).
The upside to playing video pokies with tons of paylines is the fact that you are going to win on a lot of your spins. Granted, these wins will often not be very large (sometimes encompassing just a cent or two), but winning something back on a spin is better than getting nothing, right? Those small wins eventually add up to extra spins, which can then yield potential bonus rounds, free spins or even larger wins.
Identifying Pokie Paylines
If you are interested in finding out the number of paylines that a pokie has, you should take solace in knowing that this is among the easier information to find related to a pokie. Players looking for payline information can do so by using the filter system on our free games page. Every pokie we have added has the number of paylines spelled out, as well as a complete guide as to how those paylines are distributed throughout the game. It is then up to you to decide whether a game has the layout you want to play with.