5 Reel Pokies
Some online casinos or pokies manufacturers may specialize in recreating classic 3-reel pokies, huge progressive jackpots, or offering the latest in graphics and sound in their games. But no matter where you play pokies, one thing is for certain: there will be no shortage of 5-reel pokies to choose from.
Five-reel poker machines are now the standard for casinos across the world, and that includes games hosted in the Internet. With 5-reel pokies, there is more design space for game creators to really let their themes and features shine, making these games more fun, more interactive, and potentially more profitable for players.
An example of a 5-reel pokie machine. This game is Gladiator by Playtech.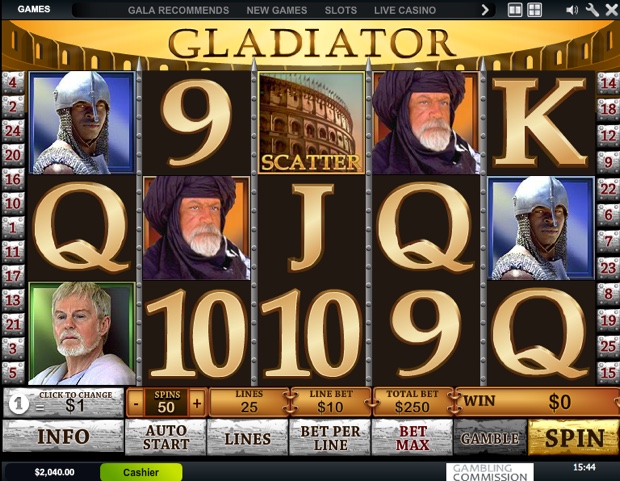 What Makes 5 Reel Pokies So Popular?
Five-reel pokies have become the standard in the gambling world because they offer enough room for manufacturers to add lots of features to their games without being so bloated as to make those games too complicated for players to enjoy. In other words, five reels seems to be the sweet spot, the point at which players get the most fun out of each and every spin.
On five-reel pokies, it is easy to find enough room to place lots of different symbols on the reels. That means a bigger selection of prize winning symbols, but also more wilds, more bonus rounds, and more special features that can be hidden among the other elements of the game.
Compare that to a three-reel pokie, where there is very limited space for added features. The rarest combination is three-in-a-row, and if there are special symbols, they'll probably have to appear on each of those reels. On a 5-reel machine, there could be one bonus feature that requires a match on the first and fifth reels, another that appears only on the third, and maybe another that triggers a jackpot if you find it on all five.
Technically, online pokies could probably create this effect just as well on three-reel machines. But 5-reel poker machines are generally designed to emulate video pokies, while 3-reel pokies are meant to be more reminiscent of traditional, mechanical games of decades past.
Five-reel pokies also offer players more chances to win and more variety in gameplay than their three-reel cousins. While 3-reel poker machines rarely offer more than five paylines, some 5-reel pokies offer as many as 243! That allows players to customize how much they spend on each spin: you can play just one line for a penny, dozens for dollars each, or anywhere in between.
History of 5-Reel Pokies
Today, we tend to look at five-reel pokies as a descendent of the old-fashioned 3-reel games of the past. But in reality, the first pokies were 5-reel machines, something that helps explain how they got their names.
The first ever poker machine was created in 1891 in New York, and featured five "drums" that acted the way reels do today. Each of those drums had pictures of ten playing cards on it, and players would win prizes by making poker hands.
The only problem was that the number of possible combinations was too much for the technology of the time: the machines couldn't process payouts automatically, meaning that a bar owner or other proprietor would have to pay out prizes manually. Around the same time, San Francisco's Charles Fey developed a three-reel game that could pay out prizes automatically, which made his machines more practical and popular throughout the world.
However, the fact that the first machine had a poker theme eventually provided the name "poker machines" for these games here in Australia. Other parts of the world used different aspects of the machines to come up with their local names: in the United States and elsewhere, they became known as "slot machines" (because of the slot in which a player inserted a coin to play), while in the United Kingdom, the popular fruit-themed symbols led to the games becoming known as "fruit machines."
Of course, even back then it was realized that 5-reel games were potentially more exciting than those with just three reels. When electronic machines started to take over in the 1960s, so did five-reel pokies, a transition that became even more complete when video pokies grew in popularity throughout the 1980s.
Top 5-Reel Pokies
There are so many five-reel poker machines at online casino sites that it is hard to pick out just a few to praise, and the following should not be considered a definitive list. However, these are definitely some of the biggest names in online pokies, so they are a good place to start!
If you're looking for the biggest progressive jackpots, there are a few games that are clearly at the top of the list. Microgaming's Mega Moolah regularly awards prizes of several million dollars, While NetEnt's Mega Fortune games are nearly as popular. You might also want to check out Beach Life from Playtech, which has awarded as much as $8 million or more in the past!
If graphics and sound are your thing, the 3D slots from NetEnt are a great place to start, as they offer some of the best visuals in the industry. Or if you have a favourite television show, movie, or comics franchise, you might want to look out for a related game: online casinos offer machines based on Marvel superheros, movies like The Dark Knight, or television shows such as Battlestar Galactica.