3 Reel Pokies
If you have only ever seen pokies on television or in the movies, your vision of poker machines is probably that of a classic three-reel pokies. 3-reel pokies are the standard by which all other poker machines are measured, and for a long time, they were pretty much the only games around.
Those days have long since passed, as improved technology, including video pokies, have given manufacturers more design options when creating new pokies. However, 3-reel games still have their place, and plenty of very popular pokies are created in the three-reel format.
An example of a 3-reel pokie game - Mega Joker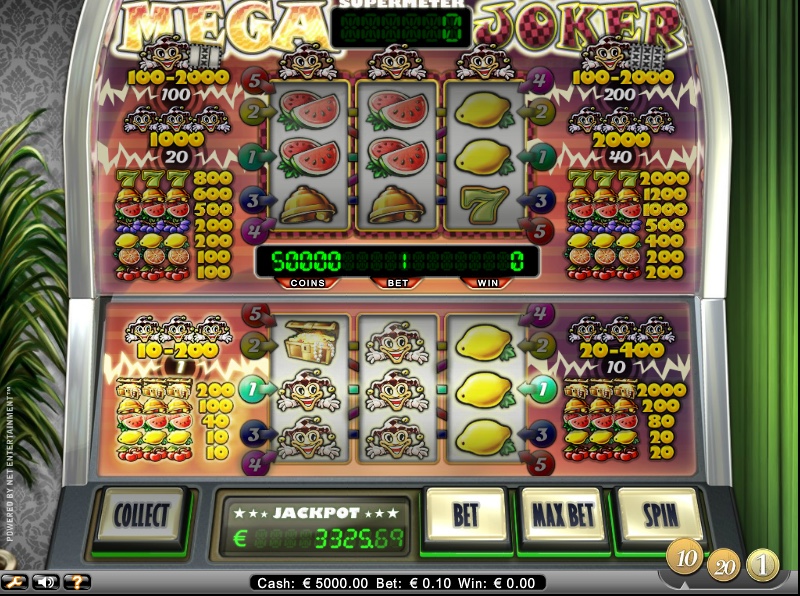 Advantages of 3-Reel Pokies
Three-reel pokies offer a simplified interface, making it much easier for players to keep track of what is going on during each spin. Three-reel pokies can still have plenty of added features, but they tend to be very manageable in number and execution.
The maximum number of paylines on a typical 3-reel pokie that has three symbol positions on each reel is 27, and few pokies of this type actually offer that many paylines. Most top out at five or nine, and some only offer three or even just a single payline to play on. This tends to make the payout schemes very logical: you will rarely be surprised to find you scored a win on a 3-reel poker machine.
Bonus features may be less common on three-reel games, but when they do hit, they tend to be exciting. Bonus rounds are usually designed to award instant rewards to players by giving them a chance to spin a wheel or otherwise randomly pick from bigger prizes.
Finally, jackpots tend to be a little easier to win on three-reel pokies. Because it only takes three-of-a-kind to completely fill a payline, that creates something of an artificial limit on how rare any combination can be. Of course, pokies can be programmed for any odds manufacturers want to give them; still, the practical effect is that the jackpot symbols are usually a little easier to line up in these games.
Drawbacks of 3-Reel Pokies
The downsides of three-reel pokies are closely related to the greatest strengths of these machines. While 3-reel pokies may offer streamlined gameplay and a refreshing simplicity, this comes at the expense of options, features, and (in many cases) smaller jackpots.
Three-reel pokies often have fewer symbols and possible ways to win than 5-reel pokies do. Because of this, it can be surprisingly hard to score wins on 3-reel games; the symbols have to be fairly hard to match, since only two or three in a row will trigger a prize. That might mean that while most symbols trigger fairly large wins, those victories may be few and far between, which can be frustrating for many players.
There's also the fact that while hitting jackpots may be easier on 3-reel pokies, they also tend to be smaller. This is both because it is easier to make a five-reel jackpot harder to hit, and because 5-reel pokies are much more popular than their 3-reel counterparts, which means many more players are contributing to progressive jackpots on the five-reel machines.
Popular 3-Reel Pokies
Perhaps the most popular three-reel pokie of all time is the Wheel of Fortune game that can be found in many live casinos. Traditionally, this game offers a wheel-based bonus round and a progressive jackpot. Today, it can be found not only in casinos across the world, but also online at casinos powered by International Game Technology (or IGT), which holds the rights to the IGT name. Many other games using a similar structure have also been released by competitors in an attempt to capitalize on the popular Wheel of Fortune gameplay.